Here is an American flag earring beading pattern that I have been making for years now (it is brick stitch). I hope to make a pair up tomorrow, so that I can show you a finished version...notice the slight wave in the flag:
(click on image below to enlarge)
Here are some other fun and patriotic beading patterns that I found online:
photo from
http://beadwork.about.com
*****
4th of July Celebration Set (Matching Earrings) - Project Sheet #68-002-38
photo from
http://www.rings-things.com
*****
Want to know how to make an American flag out of polymer clay?
Fourth of July Clay Bracelet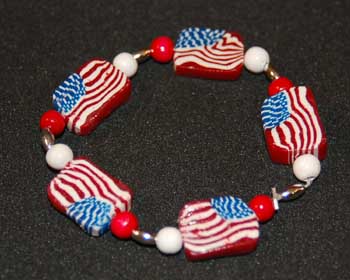 photo from http://www.freecraftunlimited.com/
*****
...and don't forget about my American Beauty earring pattern.
*****
check out this website for really helpful, free beading tutorials:
http://www.beadseast.com/primers.html
want to make your own designs?
look here for free bead graph paper:
http://www.beadedimages.com/patternbrickgraphpaper.pdf
Check out my book of 15 patterns!
*****
© 2009 threemoonbabies / Marjorie Dalgarn, All rights reserved.You may use this tutorial to make jewelry for sale. If you do so, please link back to Marjorie Dalgarn (
http://livingwiththreemoonbabies.blogspot.com
) in the item description.